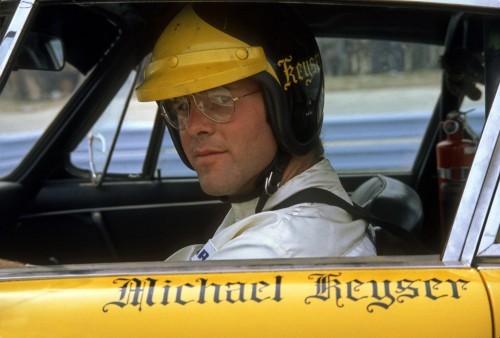 Michael Keyser was born in Baltimore, Maryland, on October 5, 1947. After graduating from Taft School, he worked for The Baltimore Sunpapers, as a reporter, then in 1969 became interested in both photography and motor racing. For the next 12 years he was involved in the sport as a photographer, filmmaker, author and driver. Mainly racing Porsches, but later Chevrolet Monzas and Corvettes, he competed in the U.S. and Europe, winning multiple events including the 12 Hours of Sebring in 1976. He retired from racing in 1981
In 1973 he produced a book and a film, both entitled The Speed Merchants. In 1999 he wrote an updated version of The Speed Merchants and also co-wrote A French Kiss With Death – Steve McQueen and the Making of Le Mans. In 2007 he designed, edited and published the award-winning Bernard Cahier: – F-Stops, Pit Stops, Laughter and Tears, and in 2011 produced the photo essay Behind Le Mans – The Film In Photographs and co-wrote Evolution of the Porsche 911 In Competition 1965-2010.
In 2013 he co-wrote, designed and published Racing Demons – Porsche and the Targa Florio, and in 2014, Eighty Four Hours of Endurance – Daytona, Sebring, Watkins Glen 1970 & 1971. In August of 2015 he designed and published Shooting Star On A Prancing Horse. a book written by his late friend Jonathan Williams.
For the past 30 years he has operated Autosports Marketing Associates, Ltd. in Butler, Maryland, where he lives with his wife Beth and their three dogs.  – www.autosportsltd.com.